It's completely asinine to believe that making a deal with Iran was a good thing. They played the US like a fiddle, and they can now continue to work on their nuclear program as much they want to for the next six months. Meanwhile, the US is slowly pushing away its only true ally in the Middle East (Israel) in order to make a half assed pact with Hezbollah-controlled Iran.
Anonymous
I'm going to pretend that this was a serious question about the P5+1 negotiations with Iran, rather than the fact-less rant it is, and provide a brief answer about why the deal doesn't simply allow Iran to "continue to work on their nuclear program as much [as] they want to for the next six months."

Here's a quick primer, courtesy of our good friends at CNN:

As part of the deal, Iran will be required to dilute its stockpile of uranium that had been enriched to 20%…. The deal also mandates Iran halt all enrichment above 5% and dismantle the technical equipment required to do that. Before the end of the initial phase of the deal, all its stockpiles should be diluted below 5% or converted to a form not suitable for further enrichment, the deal states.

[…]

Iran would also have to cut back on constructing new centrifuges and enrichment facilities, and freeze essential work on its heavy-water reactor under development at Arak. That facility could be used as a source of plutonium — a second pathway to a nuclear bomb. The reactor under construction southwest of Tehran had been a sticking point in earlier negotiations.

[…]

Iran is expected to provide daily access to inspectors from the international agency, IAEA. The inspectors will be expected to visit centrifuge assembly and storage facilities, uranium mills and the Arak reactor, among others. The P5+1 and Iran will also form a joint task force on the issue.

Is the deal perfect? Certainly not.

Is it guaranteed to succeed in all of its aims? It's not.

Is it better than the foolish saber-rattling from Israel that might lead to war and the sanctions that punish the Iranian people for decisions undertaken by a regime they've tried to oust, unsuccessfully, in the very recent past? Yeah, I'd say so.
It's sort of amazing that the Israeli government and House Republicans managed to immediately complain about the Obama administration reaching a deal that is set to slow down the Iranian worrisome nuclear program and bring an end to painful sanctions. In fact, it really seems like they voiced a fair number of their concerns before they even had a sense of the deal's exact terms.
So … there seems to be literally nothing the Obama administration can accomplish that the Netanyahu government and House Republicans won't immediately denounce. The only thing that might escape condemnation would be President Obama announcing that he was unilaterally doing away with all forms of taxation, ending Obamacare and taking away health insurance from everyone whose SNAP benefits were recently cut, stepping down from office, and turning the government over to a triumvirate of Ted Cruz, Lindsey Graham, and Benjamin Netanyahu.
And even that's not a guarantee.
Why is it that most critics of Israel in American academia come from the liberal arts departments as opposed to the hard sciences?
Anonymous
I don't know the numbers when it comes to Israel's critics, so I'm hesitant to theorize about why this might be the case. After all, it might not be the case.

We could spin out some story or other about faculty in liberal arts departments tending to operate farther to the Left on the political spectrum, or having a broader set of interests that includes global affairs, or spending more of their time thinking about justice or reading dissident literature or writing about human rights, or just having more time on their hands.

But, at least from where I sit, there's really not so much criticism of Israel in American universities generally — though there are certainly notable exceptions that get a fair amount of attention.

With the resumption of negotiations between Israelis and Palestinians this year, and with the recent international talks regarding Iran's nuclear program, it's been a pretty quiet few months with regard to criticism of Israel. That said, the lack of progress on both of these fronts, coupled with ongoing Israeli settlement construction, has me a bit surprised that things are so quiet in the U.S. on matters pertaining to Israel.
Haaretz reports:
Israel is among the world's least popular nations, according to an annual BBC World Service poll. Germany was found to be the most popular country, while the only nations less popular than Israel were found to be North Korea, Pakistan, and Iran. Read more.
There's a lot to unpack in that short paragraph. And any way you unpack it, you're going to make plenty of people angry.
So, here we go:
Israel's lack of popularity has a lot to do with its treatment of Palestinians in the West Bank and Gaza, as well as its treatment of (mostly African) migrants;
Israel's lack of popularity has a lot to do with people not liking Jews;
It would be a serious mistake to make any comparisons between the governments of Israel, North Korea, Pakistan, and Iran … even based on #1, above, unless you happen to be one of the people mentioned in #2, above.
It's absolutely fascinating that Germany is the most popular country in the same poll in which respondents find Israel only slightly less repellant than North Korea.
Where's Syria on this list? Must not have been included as an option because it would be tough to imagine that Syria, at this moment, is more popular than Israel. If Syria is somehow more popular, wowza.
Time was, a country claimed to have launched a monkey into space and successfully retrieved it, you'd be able to believe that country.
If Iran has lied to us about this monkey, how can we ever believe Iran again about anything?
I just don't know how we'll be able to live in a world where the word of the government of Iran is no longer synonymous with forthrightness.
The Times has much more on IranSpaceMonkeyGate here: Iran's space monkey triumph exposed as a fake
A very small group of people, both on their own blogs and in the comments over at the Daily Beast where I was quoted, responded to my previous comedic post about the list of moral exemplars who are condemning Israel to register their unhappiness.
I said, the group that condemned Israel is a pretty good group to be condemned by. I toyed with the idea of saying instead that a good alternate headline would have been, "Syria, Hezbollah condemn Israel for preventing Syria from giving weapons to Hezbollah; Iran condemns Israel because it's Thursday."
Specifically, my critics are unhappy with me for suggesting that it was a very bad thing for Israel to prevent a regime that has spent most of its time lately murdering its own people en masse from transferring weapons to Hezbollah.
Why? Because of how disrespectful Israel's actions are Syria's sovereignty. Or because of Israel's own human rights record. Or because Nazis condemned things too, which doesn't invalidate the badness of the thing being condemned.
I can only imagine that it would be great fun to hang out with these people.
If You Have To Be Condemned ...
http://www.upi.com/Top_News/World-News/2013/01/31/Israel-condemned-for-Syria-strike/UPI-18901359610694/
… this is a pretty good list of folks to be condemned by:
Russia, Syria, Iran, the Arab League and Hezbollah condemned Israel for an alleged airstrike in Syria, calling it an act of aggression.

A day after Israel allegedly attacked a convoy in Syria allegedly carrying advanced weaponry to Hezbollah, Jerusalem refused to comment.

[…]

Citing sources, the Saudi al-Watan newspaper reported the Syrian regime has already transferred non-conventional weapons to Hezbollah. The report said President Bashar Assad's regime has been transferring weapons to Hezbollah since the beginning of last year, including two tons of mustard gas and long-range missiles capable of carrying chemical warheads.

U.S. officials told The New York Times Jerusalem notified Washington about the attack, which Damascus called an act of "Israeli arrogance and aggression." The Wall Street Journal and the Los Angeles Times quoted Western officials briefed on the raid as saying the truck convoy carried Russian-made-SA-17 missiles for the militia wing of Hezbollah.

[…]

Hezbollah called the attack "barbaric," the The (Beirut) Daily Star said.
In my last post, I made a snarky comment about the whole notion that the government of Iran is going to make a film that responds to the inaccuracies in "Argo" and now a whole bunch of Tumblr bloggers are very excited to see such a film … either because Ben Affleck is a notorious propagandist or because state-sponsored Iranian films have a stellar track record when it comes to entertainment.
Here are some of the response to my post:
1. Looking forward to it. All the Iranian flicks I have seen thus far have been excellent.
2. Ataollah Salmanian is probably a better director than Ben Affleck.
3. Going to be tracking this one.
4. mannn i haven't seen a persian movie in so long.
5. Actually quite want to see this…
6. The fim will probably end up being a more accurate account, and therefore will be ignored by American audiences. Woops.
7. From what I've heard about the difference between the actual events and the events depicted in Argo, it looks like Iran is about drop a truth-bomb on America. Hopefully Argo won't win an Oscar, otherwise it's just going to make it much more embarrassing - "Oscar Winning Film Actually Completely Full of Shit"
I haven't seen "Argo" because I have small children so I don't get to see movies in the theatre. But I can only conclude from these comments either that a) it is the worst movie ever made; b) it opens with a crawler that says, "This is the definitive historical truth  of actual events, much like the way that "300" is an exact retelling of the battle of Thermopylae; or c) Tumblr bloggers are the sort of Iranian cinephiles that the Grand Ayatollah has long been attempting to create.
Iran's Art Bureau is planning to produce a film presenting its own version of the events depicted in Ben Affleck's Argo, which tells the story of a 1980 CIA operation to extract six fugitive American diplomatic personnel out of revolutionary Iran.

Iran's Mehr News Agency quoted the film's director, Ataollah Salmanian, as saying on Thursday that the film, entitled The General Staff, would be "an appropriate response to the ahistoric film Argo."
I, for one, am very anxious to see the Iranian response movie. I presume it can't possibly be anything other than excellent.
NPR ran a story this afternoon about the Hagel nomination that featured Elliot Abrams, a neoconservative critic who says outright that Hagel is an anti-Semite: "He seems to have some kind of problem with Jews," he says about three-quarters of the way through this short interview.
To make his case, he refers to a statement Hagel once made about the "Jewish lobby" and about how he was a United States Senator, not an Israeli Senator. But, really, Abrams relies on the testimony of the Jewish community of Nebraska, of which I am a member.
He specifically refers to Hagel's "hostility toward that community — their word not mine."
In fact, in fewer than eight minutes, Abrams mentions the Nebraska Jewish community three times to hammer home that Hagel's Jewish constituents are deeply distrustful of him.
Apart from the obvious fact that Jews in Nebraska are not a monolithic community that speaks with one voice, none of the allegations amount to anti-Semitism. That all of the allegations seem to be made by staunch members of AIPAC is particularly telling; by their lights, I'm certain to be just as much of an anti-Semite as Hagel.
I said it earlier today and I'll say it again:
That Chuck Hagel doesn't see eye-to-eye with some Jews in Nebraska and with the GOP more broadly on the question of America's blank check relationship with Israel does not make him an anti-Semite.
Despite the fact that all of this has made me angry enough to write a series of blog posts about it, I want to be perfectly clear that I don't have any skin in this game. It doesn't matter to me whether Chuck Hagel or someone else is our next Secretary of Defense. Contrary to Abrams' position in this NPR interview, the next Secretary will serve at the pleasure of President Obama; he won't be cozying up to Iran or punching Netanyahu in the stomach just because he feels like it. I write all of this because it's incredibly disturbing to see someone tarred with allegations of anti-Semitism by neoconservatives, Tea Partyers, and AIPAC when, in fact, the person in question simply isn't toeing the AIPAC line on writing blank checks to the Likud party in Israel.
This isn't how Cabinet-level positions should be decided, not if we have any sense left in our heads.
GOP senators: Hagel is in for a fight
http://www.ketv.com/news/politics/GOP-senators-Hagel-is-in-for-a-fight/-/9674400/18027974/-/ogv7h2/-/index.html?absolute=true&utm_source=dlvr.it&utm_medium=twitter&utm_campaign=ketv
My assumption is that GOP legislators would put up a terrible fight if President Obama were to nominate a Democrat as his new Secretary of Defense. It seems they will also put up a terrible fight if he nominates a Republican:
Republican lawmakers voiced staunch opposition Sunday to their former colleague Chuck Hagel, who is expected to be nominated next week to be President Barack Obama's next secretary of defense.

[…]

On Sunday, Sen. Lindsey Graham of South Carolina said on CNN's "State of the Union" that Hagel was a "controversial" choice by Obama. Graham didn't rule out staging a filibuster to prevent a vote on Hagel's nomination.

"Hagel, if confirmed to be secretary of defense, would be the most antagonistic secretary of defense towards the state of Israel in our nation's history," Graham told CNN chief political correspondent Candy Crowley.

Sen. Ted Cruz, a Republican freshman from Texas elected with strong backing from the tea party, said on "Fox News Sunday" that it was "very difficult to imagine a circumstance in which I could support (Hagel's) confirmation."

"It's interesting, the president seems bound and determined to proceed down this path despite the fact that Hagel's record is very, very troubling on the nation of Israel," Cruz said. "He has not been a friend to Israel. And in my view the United States should stand unshakably with Israel."
In addition to his apparent antagonism toward Israel, which stems mostly from a comment he made in 2007, it seems that Hagel is also insufficiently hawkish with regard to Iran … which also counts against him when it comes to standing with Israel.
The only nominee for Secretary of Defense the GOP will accept is Benjamin Netanyahu.
The Jerusalem Post might have published the worst movie review of all time.
Of course, it isn't actually a movie review of "The Hobbit" so much as its author uses the occasion of the release of that film to scold everyone for not reading enough Ayn Rand and not caring enough about world-historical Evil-with-a-Capital-E:  
WHEN WE look at the 21st century and all it offers us, we must wonder whether it will be capable of producing a Rand or a Tolkien. The upheavals of the 20th century helped engender these great minds, but what does the 21st century offer? It doesn't offer Nazism and Communism, but rather post-modernism and terrorism; the globalized one-world culture of unimportant 24-hour news cycles. Print media has declined, and the humanities have been dumbed down to the point that a PhD in 2012 would not be able to pass Harvard's 1864 entrance examination.

Universal education has raised the ranks of the literate, but what will the literate read in the coming decades? Baggins and Roark could not have confronted terrorism and the dull, valueless post-modernist critique.

What would Baggins and Roark have made of what has become of the visual arts in the wake of the evils wrought by "modern art"? What would they have said looking at a theater production that has replaced originality with nudity? Rand and Tolkien were curmudgeons, and their characters were sort of curmudgeonly, which is why they are not always well received by the literati. But they were much loved by readers, and they continue to be much loved. Whether such characters will again be fashioned in the English-speaking world is an open question.
So go see "The Hobbit," if you must, but just remember that Ayn Rand wouldn't approve and that Iran is going to develop nuclear weapons and kill everyone.
ROMNEY: Syria is Iran's route to sea.
Azerbaijan mulls helping Israel with Iran attack
http://www.haaretz.com/news/diplomacy-defense/sources-azerbaijan-mulls-helping-israel-with-iran-attack-1.467628?localLinksEnabled=false
Just in case things don't work out with President Obama, perhaps Israeli Prime Minister Netanyahu has a back-up plan in the works:
[D]espite official denials by Azerbaijan and Israel, two Azeri former military officers with links to serving personnel and two Russian intelligence sources all told Reuters that Azerbaijan and Israel have been looking at how Azeri bases and intelligence could serve in a possible strike on Iran.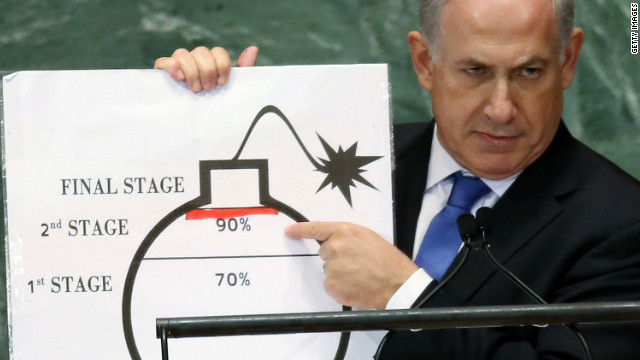 Benjamin Netanyahu, renowned Israeli prop comic and prime minister, visits United Nations, inspires internet memes … as well as jealousy from rival prop comics, Carrot Top and Gallagher, and rival chart-wielding politician Ross Perot.